What is Transitional Medicine?
Transitional Medicine is an approved Medicare benefit providing in-home clinical support for patients returning home from an acute inpatient admission. The goal of Transitional Medicine is to provide exceptional patient outcomes while breaking the chain of cyclical acute care readmission and over-utilization. Care Partners was the first Medicare-licensed medical practice specializing in Transitional Care in the nation.
Eligible patients receive clinical care in the comfort of their home from an assigned Nurse Practitioner who specializes in Transitional Care. Care Partners' Nurse Practitioners are overseen by our Physician Medical Director and supported by our Transitional Care RNs and LVNs.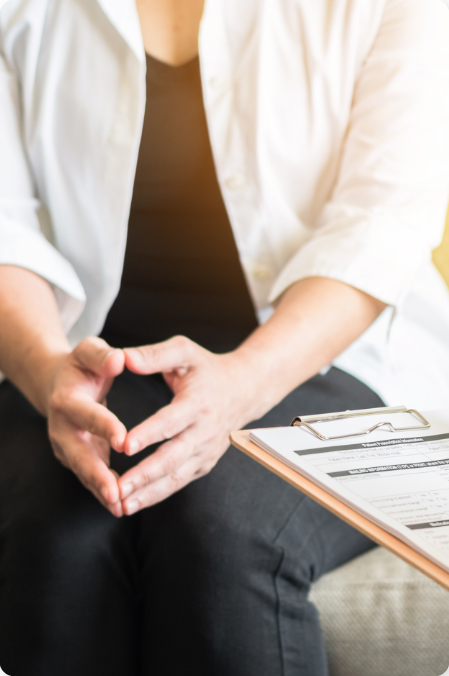 Care Partners' Clinical Approach
Our goal is to see every patient in the comfort of their own home. Accordingly, our NPs come out and visit our patients in-person. We've found that by building a personal relationship with the patient, we are able to intervene more immediately while also instilling a level of trust that encourages patients to call our team first in a crisis, instead of simply heading back to the ER when an episode does not require it.
In-between visits, the patient is supported by our NP's, RNs and LVNs telephonically, inclusive of the patient having 24/7 access to their assigned NP. Altogether, over the average duration of care (~30 days), we average 4+ in-home visits from an NP as well as an additional 5+ follow-ups telephonically. For higher risk patients, those numbers can double (or more) to make sure we're staying on top of the patient's care plan and guiding them back to an appropriate baseline prior to discharge from our care.
Finally, our care model is holistic, as opposed to episodic, so the NPs take into account and treat with an eye on the most recent admission and the patient's previous utilization over the past 6-12 months. The goal here, in addition to returning the patient to an appropriate baseline, is to provide support for the Clinical AND Psychosocial factors that contribute to readmissions and cyclical utilization.
As a final note, for all of our patients, the goal is to discharge them successfully from our care back into the care of their preferred PCP or specialist. Regrettably, what we've found is that most PCPs, by no fault of their own, may not know that their patient was admitted to the hospital. Not only do we provide them with an update, but we will collaborate with them to ensure we are providing care in line with the plan set forth by the PCP.
Pain Points and Solutions
Care Partners takes on the patients most at-risk for readmission.
100
%
Care Partners' All Cause Readmission Rate
100
%
Care Partners' "Preventable" Readmission Rate
Over 65% of our patients are characterized as "high risk for readmission", with an average age of ~82 and an average medication count of >13 at the start of service.
37.12
%
Average Readmission Rate for Patients of comparable acuity WITHOUT Transitional Medicine Services
Our Average LACE score is 12.1. The average 30-day readmission for patients with a LACE score of 12-15 is 37.12%.
*Per UC Irvine Health Study of 3,184 Patients with LACE score of 12-15.
Simply put, we provide exceptional outcomes for a population of patients who many healthcare systems feel there is no answer.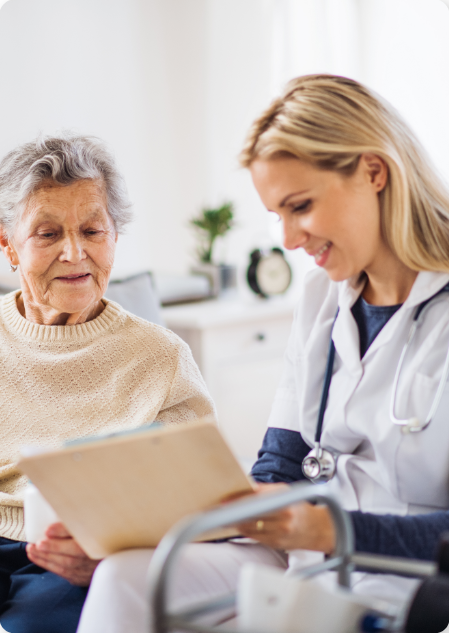 ED Diversions through Clinical Intervention
We save our partners money by diverting unnecessary ED visits.
We have the appropriate Care Team in place for our partners to feel comfortable discharging high-risk patients to their homes or another post-acute setting.
Here's why you should trust us:​
What Are the Benefits of Transitional Medicine?​
Success starts from the first step.
We connect with our patients either bedside or immediately following discharge.

Medication Reconciliation – in-depth reconciliation inclusive of medications prescribed pre- and post-discharge to ensure no contraindications

Psychosocial & Behavioral Factors – Care Partners' NPs are trained to seek out and provide resources for any apparent psychosocial or behavioral factors which may be contributing to cyclical utilization or readmission

Post-Acute Resource Communication & Collaboration – Care Partners will act as a liaison and collaborate with home health, social work, home care, Pharmacy, DME, and other post-acute resources

Holistic View of Care & Recovery – Care Partners' model goes beyond the acute episode to view and tailor care towards all of the patient's comorbidities or underlying factors affecting health and utilization

Notification and Reconnection with PCP Care Partners will reach out to your PCP or preferred specialist to align post-acute care instructions with pre-admission care and baseline
Additional Benefits of Transitional Medicine:
High-Touch Approach & Length of Service – throughout the typical 30-day length of service, Care Partners' NPs will visit intermittently – typically once per week (or more) – to ensure compliance with post-discharge care instructions and provide any necessary care interventions. The average patient has ~10 contacts with Care Partners prior to discharge from our service.
Prescriptive Authority for Quick Interventions – as NPs have prescriptive authority, this benefits patients and post-acute partners alike, as NPs can provide real-time interventions, orders and care corrections.
ED Diversion through Accessibility – NPs are available to the patient telephonically 24/7 while on service. This is beneficial because they are the first line of defense for patients who may be considering an unnecessary trip to the Emergency Department. In addition to their assigned NP, patients are supported telephonically by Care Partners' Transitional Care RNs and LVNs throughout care.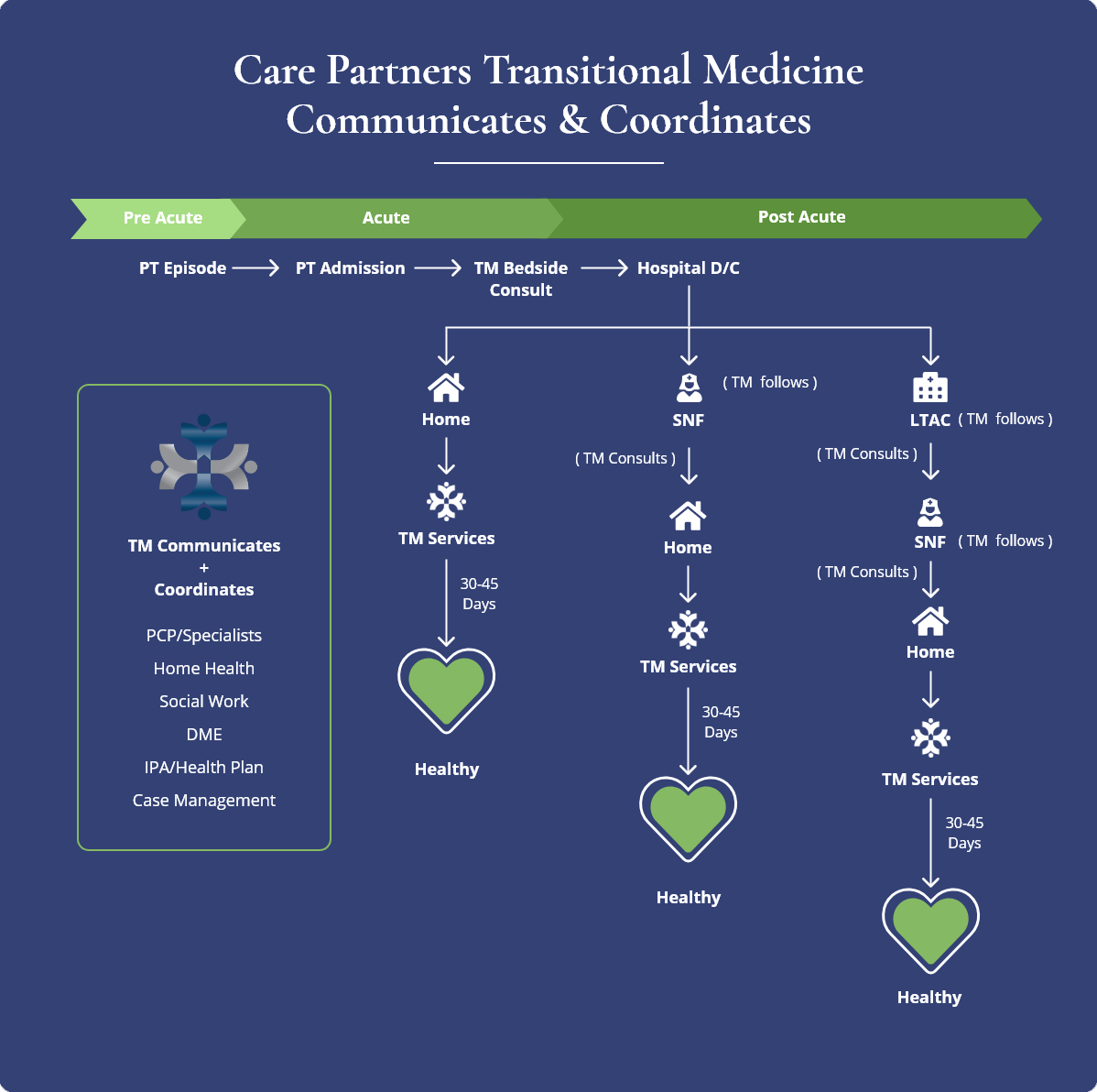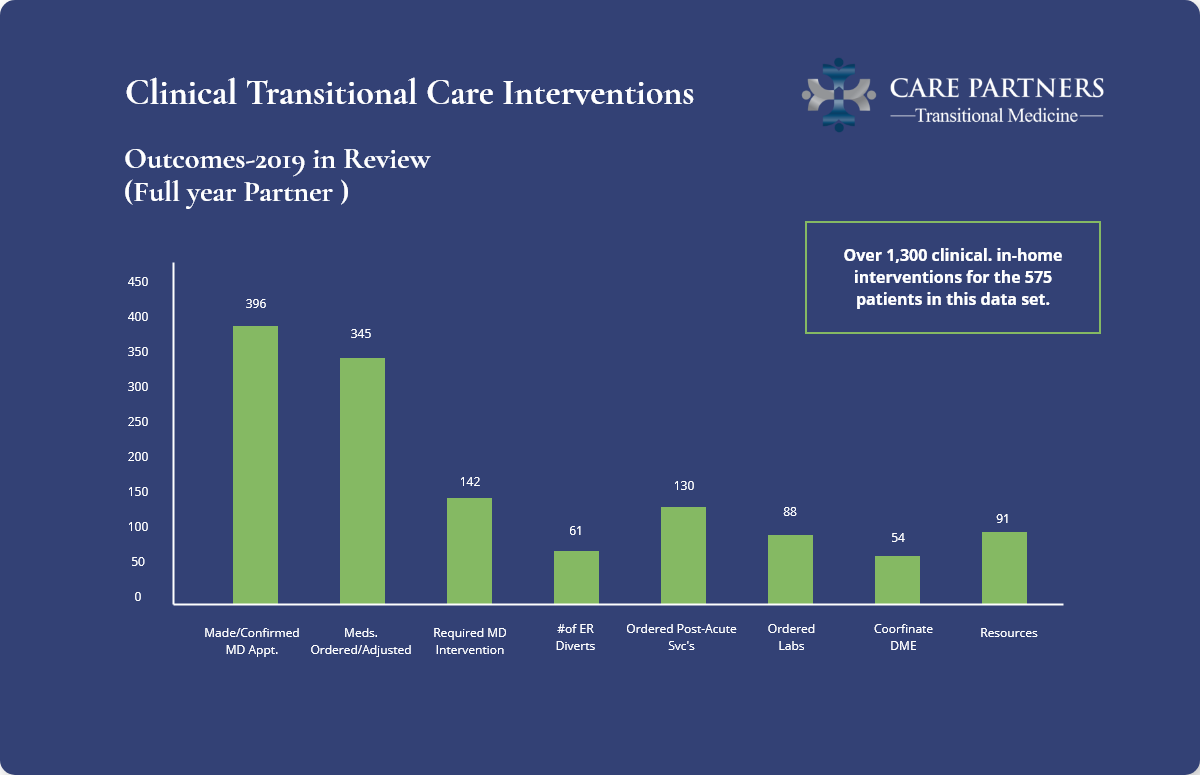 Frequently Asked Questions
Care Partners Transitional Medicine is a certified Medicare Provider and our services are a covered benefit under Medicare Part B. There is no cost to the patient other than a standard co-pay. Financial assistance is always available for those who may need it to cover their co-pay.
Transitional Medicine (TM) does NOT take the place of Home Health. Instead, TM provides comprehensive clinical oversight from a Nurse Practitioner and works alongside all other post-acute providers. As they are covered under different aspects of Medicare, a patient can receive both Home Health and TM simultaneously. TM is holistic in nature (as opposed to episodic) and focuses on both the pre- and post-admission health and care goals of the patient. In addition, your TM Nurse Practitioner will serve as a liaison and conduit for all post-acute providers and associated PCPs.
As a certified Medicare Provider, you don't need a referral for Transitional Medicine. You can sign up for Transitional Medicine services directly with Care Partners. Please note, Care Partners Transitional Medicine does not replace the services provided by your physician. Our services are meant to support the care provided by your physician.
* Care Partners TM also has strategic partnerships with various commercial health plans, IPAs and commercial payers. Please inquire with Care Partners to determine if your health plan is accepted by Care Partners.